The Ohrpheo is a small but fine music school in the middle of Prenzlauer Berg Berlin. We offer music lessons, music events and workshops for jung and old people. - Just come to our music school in Jablonskistr. 15 and convince yourself of our offer!
Our Music Lessons
We offer the following music lessons:
The team and the music teachers of Musikstudio Ohrpheo are looking forward to your visit! - By the way: Our piano lessons always take place at a wonderful Boston wing.
Congratulations to our music teacher Inobat Akhmedova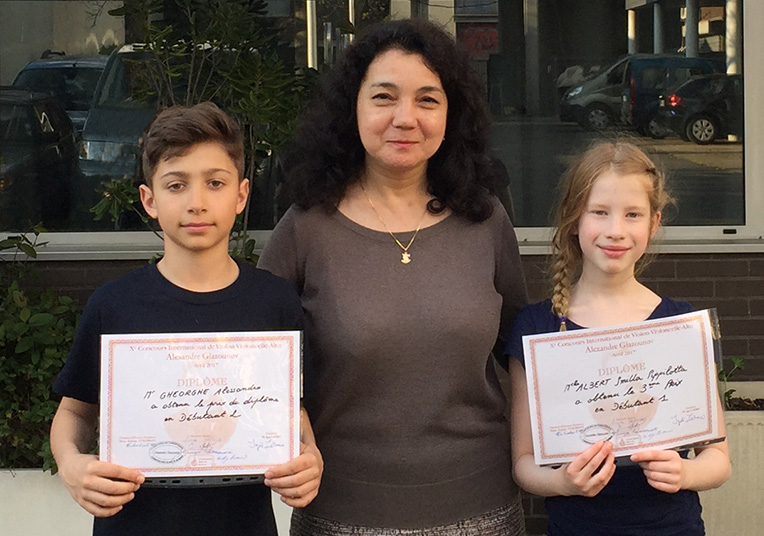 Great success for our small music school and our violin teacher. - We congratulate our violin teacher Inobat Akhmedova on the success of her students Smilla Albert (3rd prize) and Alesso George (4th prize) at the X. International Violin Competition "Alexandre Glazounov" in Paris.
The music school Ohrpheo welcomes the new guitar teacher Daniel Hartwig
We are pleased to introduce our new guitar teacher Daniel Hartwig. Daniel was born in Essen and studied guitar and instrumental pedagogy at the Musikhochschule Münster. From now on he teaches in our music school individual lessons. On request, he also prepares or accompanies you for musical examinations.
For more information, click here
Newsletter
You want to receive information about current events and offers of our music school? - Subscribe to our newsletter!
You would like to rent our piano wing for an hour? You need advice because you want to buy a music instrument?
Are you looking for a wing for practicing in Berlin? Best in Prenzlauer Berg? - Our Boston wing from Steinway can be rented by the hour. Our studio in Jablonskistrasse 15, 10405 Berlin can also be rented for events and celebrations. And of course, we would be happy to advise you on buying a musical instrument.
Musikstudio Ohrpheo
Jablonskistr. 15
10405 Berlin
Tel: 030/250 48 799
E-Mail: info@ohrpheo.de
Öffnungszeiten:
Mo - Fr: 11 - 20 Uhr
Current events in the Musikstudio Ohrpheo
The team of our music school
Kleiner Veranstaltungsrückblick